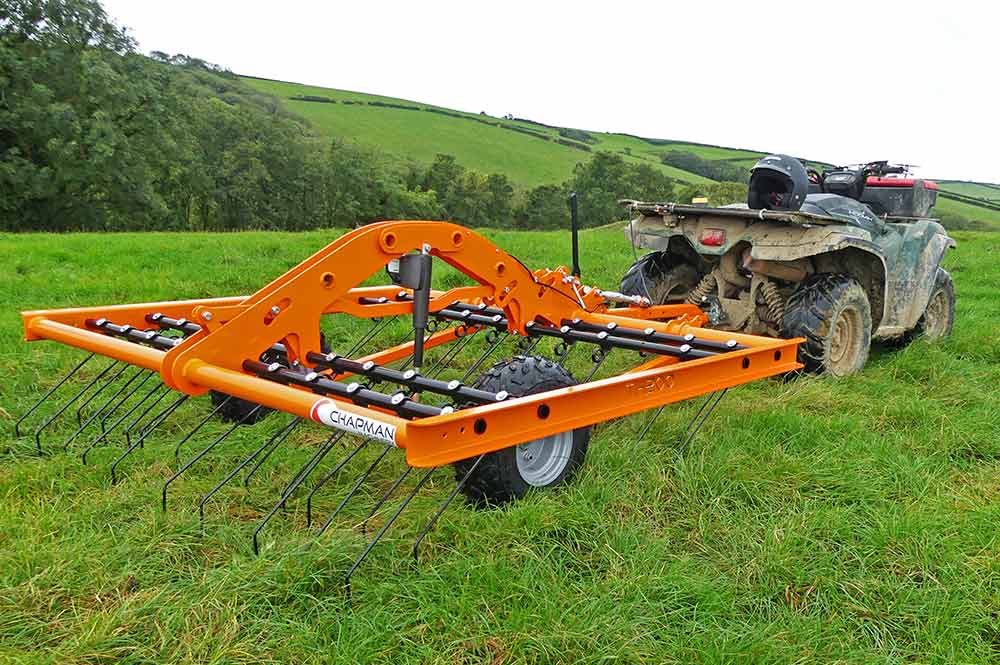 The TH200 Tine Harrow is the latest in the range of time saving, innovate equipment from Chapman Machinery.
The TH200 is a trailed ATV/UTV Tine Harrow with electric lift for easy lowering/raising of the wheels for when the harrow is in use. A 2.0m working width and heavy duty fixed Einbock tines on a steel frame give the TH200 exceptional performance in levelling, aerating & scarifying surfaces allowing for a healthier paddock/field.
– 40 7mm Einbock tines in four rows
– Heavy duty steel construction
– Three tine settings to set aggressiveness
– 12v actuator for automatic lifting of wheels to in-work use
– Height adjustable draw-bar for different tow ball heights
– Tried and tested British manufactured swivel hitch
– Good quality 19x7x8″ tyres for easy towing
The TH200 can also be used to level and grade arenas, sand schools and gallops – careful and timely maintenance can make the difference between a long-lasting, brilliant riding surface, and a hard, dusty surface which can endanger both you and your horses. The TH200 comes with the well established Chapman build quality with industry leading 2 year warranty for peace of mind.
Other benefits include;
– Removal of small rooted weeds
– Break up of livestock/horse manure in fields & paddocks
– More light and air reaching the soil from removal of thatch & moss
– Levelling of surface from mole hills and heavy soil
– Preparing the ground for grass seed
For enquires or to find out more, e-mail [email protected] or call 01288 308 149 or visit our dedicated product page here: