"Grading To New Depths"
The best all-round arena leveller!
The MG250 Arena Leveller is the perfect tool for
levelling and grading all types of equestrian riding
surface. Designed for ease of use and robust build, the
MG250 will restore and maintain a top quality riding
surface quickly and easily.
Fully galvanised heavy duty construction
Robust delta shape deflects fence posts
Large wheels for easy and smooth towing
High quality spring steel tines
Reversible Perimeter blade
Rear Consolidation Roller (option)
Simple. Effective. Reliable.
Arenas, sand schools and gallops are expensive – careful and timely maintenance can make the difference between a long-lasting, brilliant riding surface, and a hard, dusty surface which can endanger both you and your horses.
In order to get the best return from your investment, regular maintenance must be carried out using the right tool for the job..
Minimal fuss
Hard spots are eliminated, dust is reduced, and drainage is improved. Furthermore, the wide width of the MG250 means you can level your surface quickly and with minimal fuss!
For advanced fibre or wax stabilised surfaces such as CombiRide, Turfloat or CLOPF, a maintenance regime is essential as it orientates the fibres correctly to give the desired surface feel.
Suitable for any vehicle
Available as standard as a towed unit for use behind almost any vehicle equipped with a 50mm ball or pin hitch. Alternatively the MG250 can be supplied as a 3-point linkage mounted version for use on compact or mid-sized tractors.
Featuring a pre-levelling bar to allow the large diameter wheels to roll smoothly over the surface; integrated hardened ground engaging tines with adjustable working depth; feathering levelling blade to smooth out high and low spots and a following roller (optional) to consolidate and orientate fibres across the surface.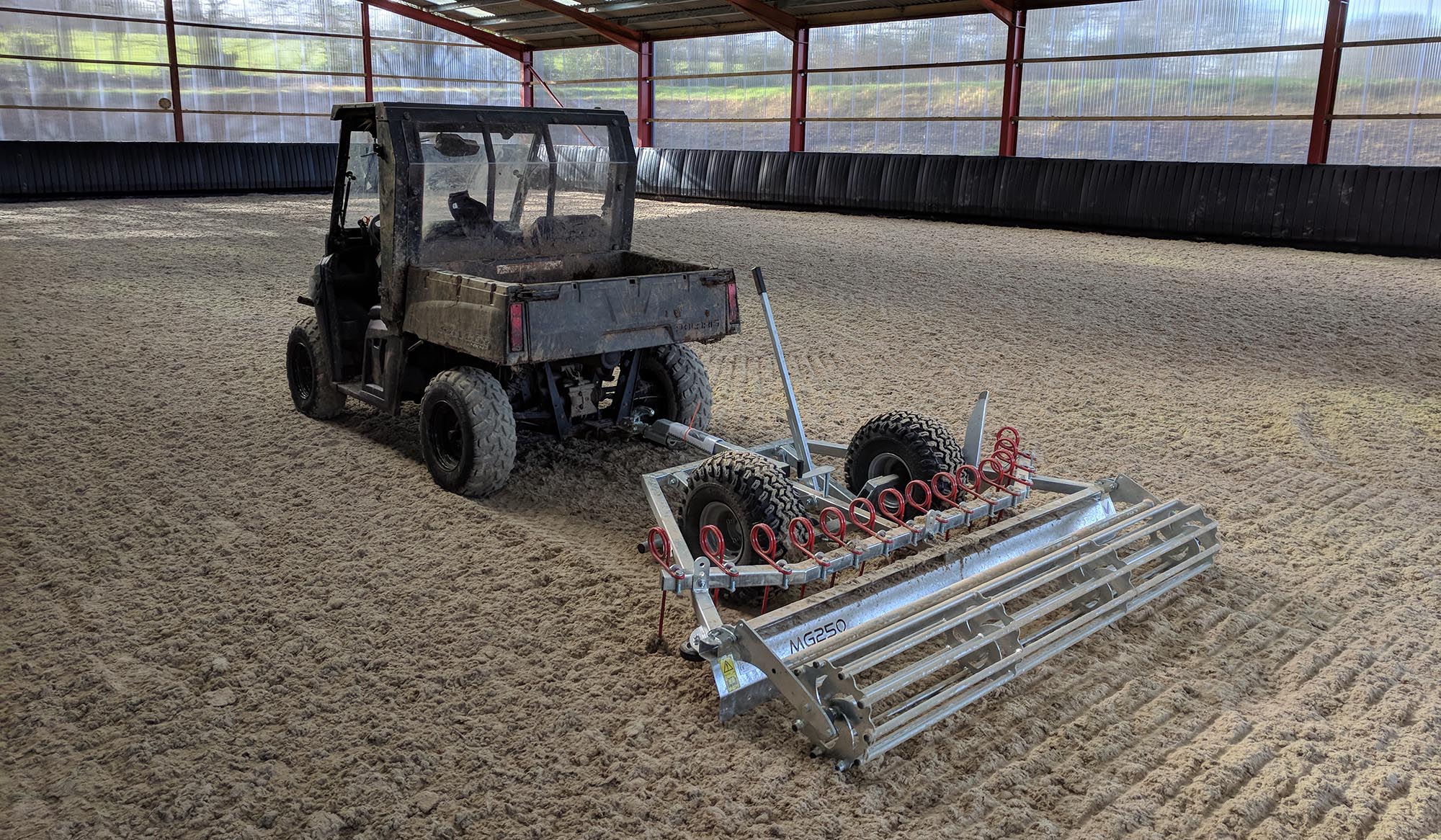 Enquire
Got questions? Email, phone or chat with us.
Enquire about this product
Rear Roller
For a one pass finish or where consolidation is required. Highly recommended for large arenas, or those containing advanced fibres such as CombiRide, CLOPF & Turfloat surfaces. Sealed bearings allow the roller to work smoothly, and require minimal maintenance. Unique design allows the roller to be used independently, as extra ballast when heavy grading is required, or in normal operation, as a following consolidation roller.
Build & Order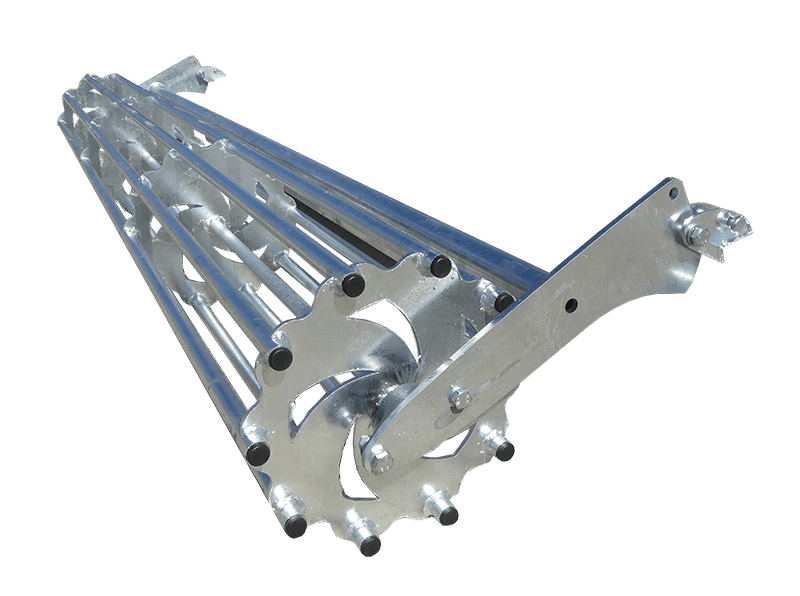 3-Point Linkage Mounted
3 point linkage mounted version in place or standard 50mm ball hitch trailed unit. Ideal for larger arenas where more regular maintenance is required.
Build & Order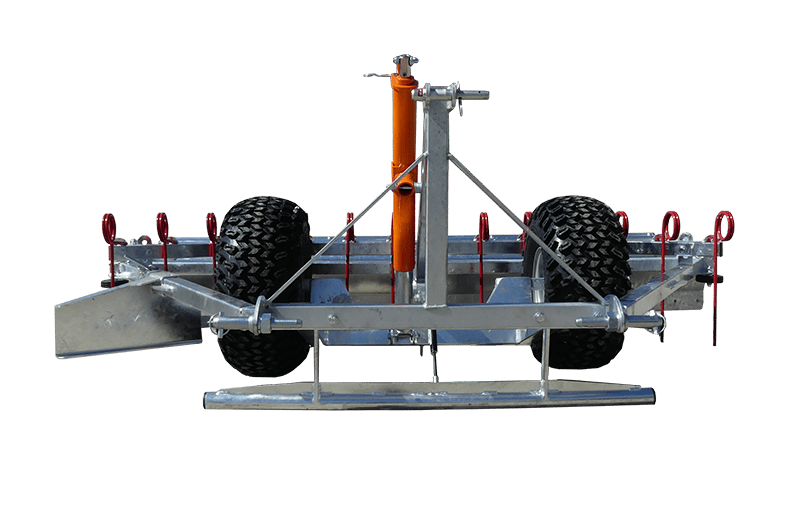 | | |
| --- | --- |
| MG250 | 2.3m (8′) working width, Spring Tines, Levelling Blade, Perimiter Blade |
| MG250+RR | As above but with rear following roller fitted |
| | |
| --- | --- |
| Weight | 120/175kg (MG250/MG250+RR) |
| Grading Width | 2.4M |
| Tyre Size | 22x11x8" |
| Number of Tines | 14 |
| Tine Size | 13mm diameter Spring Steel | Product Dimensions for the MG250 ATV Arena Leveller. Some optional equipment shown fitted.
Find a Dealer
One of our dealerships can easily be found with our interactive map.
Exceptionally well-made product, cleverly designed. We have used ours for over three years on a 60×20 sand and fiber school in the SW of France. Equally refreshing customer service, fast polite and personal service. Highly recommended.

R Meynié

28th June 2016
Whatever weather the surface has thrown at it the leveller returns it to a level, even consistency, every time the school is hired out we get comments on the quality of the surface and the fact that there is no sub surface compaction due to the spring times working below the surface.

Ray Bird

28th June 2016
We bought the Chapman arena leveller after doing a lot of homework looking at all manufacturers. We are thrilled with the product which is substantially built, easy to use and does a quality job!

Helen Briggs

11 May 2020
Enquire
Got questions? Email, phone or chat with us.
Enquire about this product