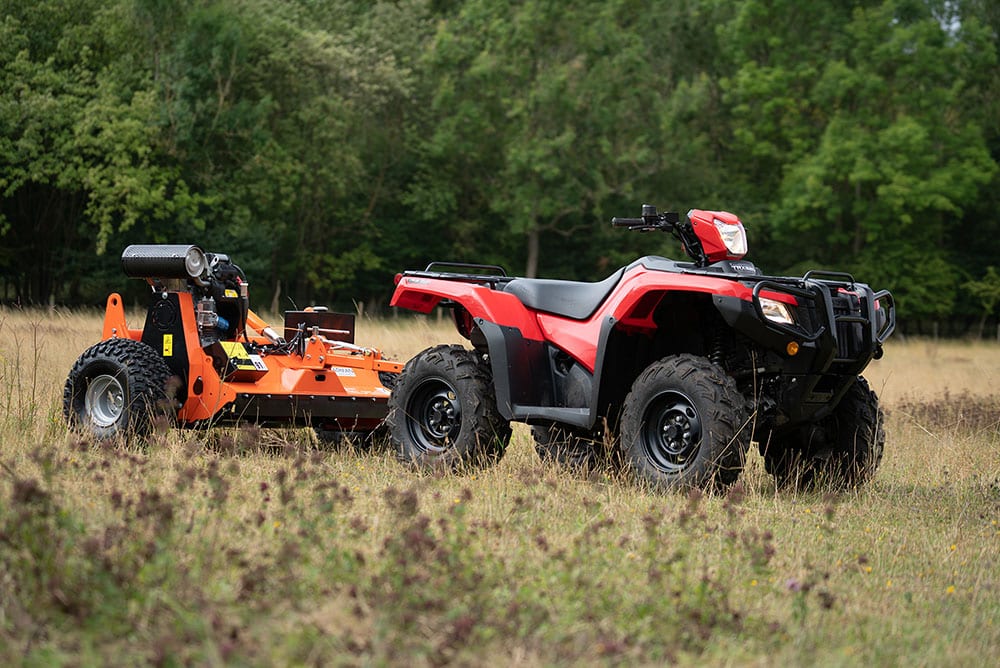 Chapman Machinery has launched a new model in the FM Flail Mower range, the FM PRO. Boasting a 23hp, fuel injected Honda V-Twin iGX700 engine, the FM PRO enters new territory in the ATV flail mower market for extreme power and reliability while maintaining better fuel efficiency versus traditional carburettor models.
When reliability meets intelligence
The Chapman FM Series has a cult status in the ATV community of being one of the most reliable, strong and powerful self-powered flail mowers on the market, and as such has gained great popularity with commercial users who rely on their equipment daily.
James Chapman, Director of Chapman Machinery, decided to take it one step further. Introducing an upgrade from the current FM flail mower engine, the carburettor-fuelled GX630, to the all new Honda iGX700. The new engine is equipped with a state-of-the-art electronic fuel injection (EFI) system replacing the conventional carburettor, delivering additional power, reliability and reduced fuel consumption.
The FM Series Flail Mowers' range by Chapman Machinery Ltd are designed to tackle tough mowing tasks including mowing on rough, wet and boggy ground where a heavier mounted units are unsuitable. Built to be exceptionally tough, yet have a low ground pressure for easy towing, the FM Series Flail Mowers can go where other machines cannot, and comes in 1.2m & 1.5m cutting widths with a variety of secondary options for commercial or specialised use.
The FM PRO models are fitted with forged hammer flails as standard, proven to cope with the most demanding growth, with a cleaner, more reliable cut.
The Honda iGX700 offers excellent fuel efficiency due to the electronic control system which continually monitors and adjusts the engines air to fuel ratio according to operating conditions and engine load, while maintaining optimal performance. This results in excellent fuel efficiency and low emissions – so good, that in product trials the fuel efficiency was typically 10-12% better than the previous model.

The benefits don't end there – along with Honda's legendary quality and reliability, the upgraded engines minimise starting issues in a range of conditions and are less susceptible to poor quality fuel, making them even more efficient. This means lower fuel consumption, less maintenance costs and less downtime – important factors when choosing which machine is right for you.
Engineer James Chapman founded the company in 2010, yet the company has rapidly grown to produce a large range of machinery, and export significant numbers of machines throughout Europe and further afield. Known for producing heavy duty ATV flail mowers, the company has units operating in tough conditions as far afield as Australia and New Zealand.
James said: "The FM PRO with the new iGX700 is a game changer in the ATV flail mower market. In a current climate that we are moving towards more efficient technologies, the FM PRO boats unrivalled fuel efficiency in its class by working more intelligently. Pairing the latest Honda technology with the unique design of the Chapman Flail Mower we can achieve increased performance without sacrificing reliability whilst sustaining excellent fuel efficiency – resulting in getting the job done quicker."
The FM PRO comes with 22x11x8" flotation tyres, hammer flails and Honda iGX700 for an RRP of £5,100 + VAT for a 1.2m cutting width. An 1.5m model is available for RRP £5,300.
Available now – for more information contact us on 01288 308149 or email [email protected]