"Lightweight yet incredibly strong"
Fully approved for road use within the EU, the box style trailer body has internal dimensions of 2.14m x 1.3m (7′ x 4'2″) and drop down perforated steel sides. the QT200 is capable of carrying a variety of loads including most common ATV's. Wide 20.5x8x10″ flotation road tyres are just as capable on-road as off-road, and full width suspension axle makes for smooth towing.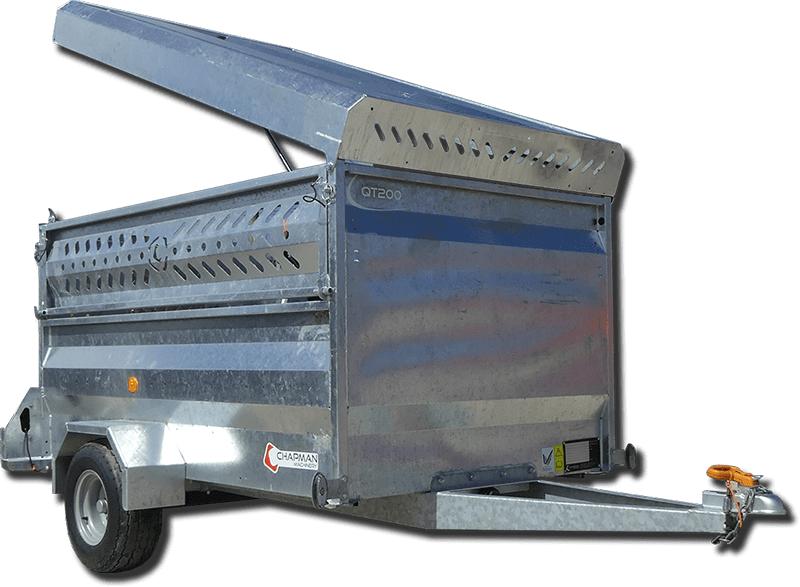 Laser-cut folded steel construction
Dropdown perforated mesh sides
Full LED Lighting with reverse
Canopy and partition options
Robust Design
Featuring a folded steel A-Frame drawbar, designed to be both lightweight yet incredibly strong, and a cast hitch with lock for durability and security. 2mm Laser cut steel panels are used for accuracy and durability – the fold downsides have ventilation holes laser cut into them which are significantly stronger and less likely to fail than weldmesh sides.
The drop-down tailgate features an integral swing door and is made from 2mm folded steel and aluminium chequer plate. Fully hot-dip galvanised and fitted with tough steel mudguards.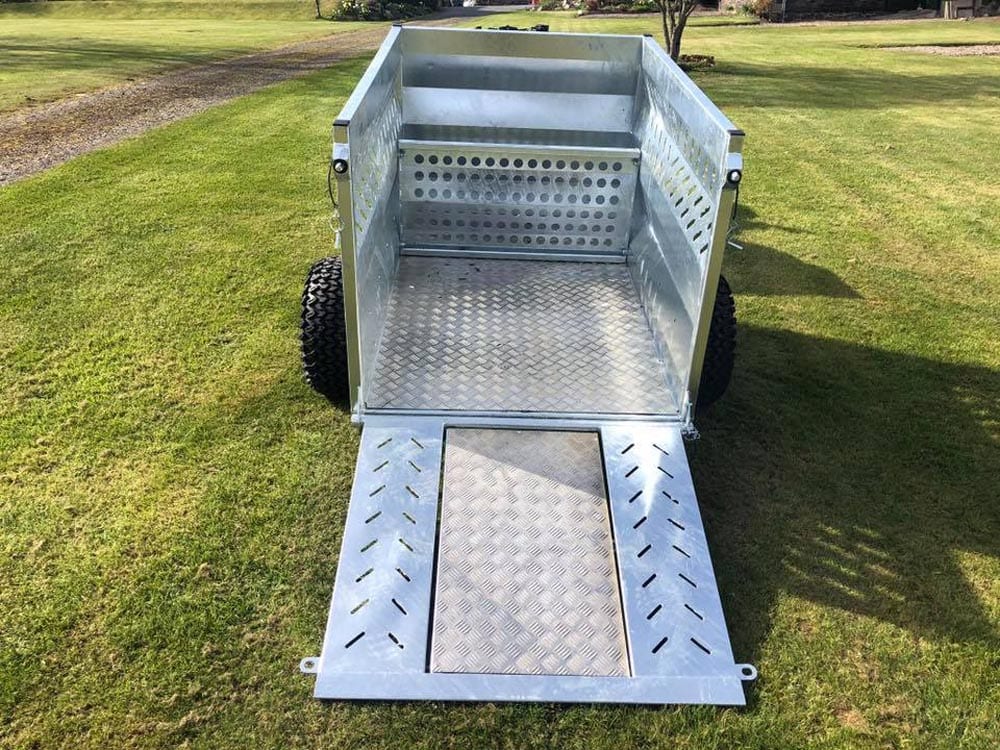 Quiet, Stress-Free Towing
Aluminium flooring is fitted as standard and is both glued and riveted down for a secure and rattle-free trailer. All latches feature soft foam washers to prevent rattles, and spring clips are retained with rubber cords to stop unsightly rust stains as experienced with chain or cable keepers.
20.5x8x10″ flotation road tyres work equally well on-road as off-road and coupled with the A-Frame drawbar and suspensions axles ensure this trailer follows the towing vehicle without bouncing, even when empty.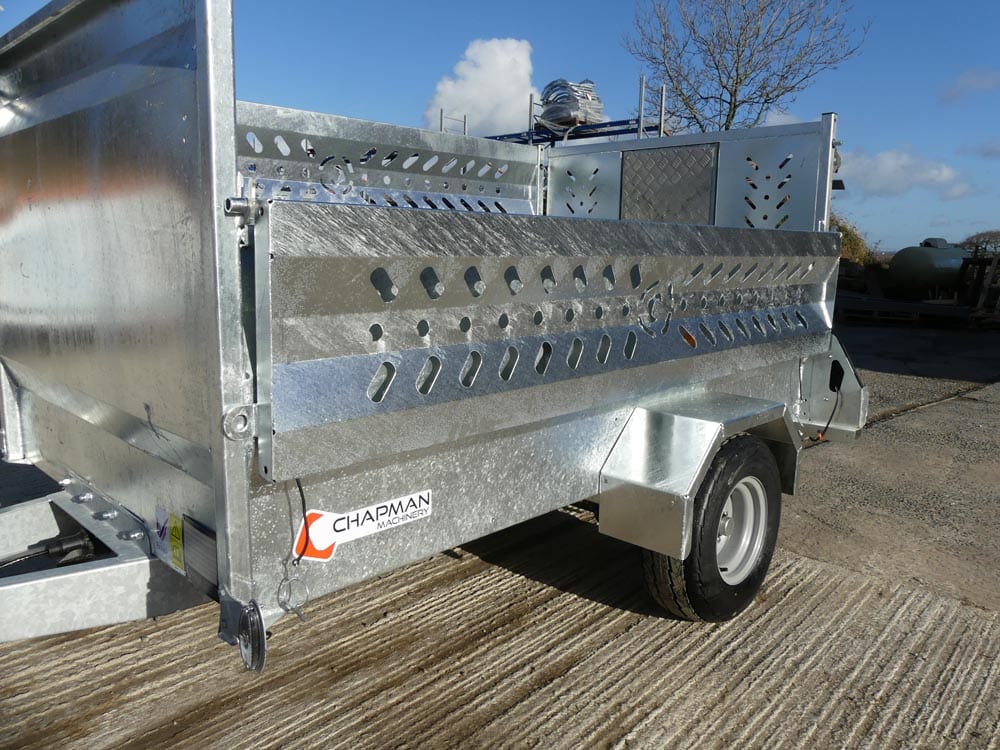 Trouble-Free LED Lighting
Fitted as standard with super bright Aspoeck full LED lighting, these units have no bulbs to blow or rattle lose, and no junction boxes on the trailer. 13pin lighting (with 7 pin adaptor) is standard, giving the added benefit of reversing lights for vehicles so equipped.
Canopy Option
The optional canopy pivots from the front of the trailer and is fitted with gas struts for easy opening. Latches are single-rotor that automatically secure the canopy upon closing, so no messing around with clips or latches is required.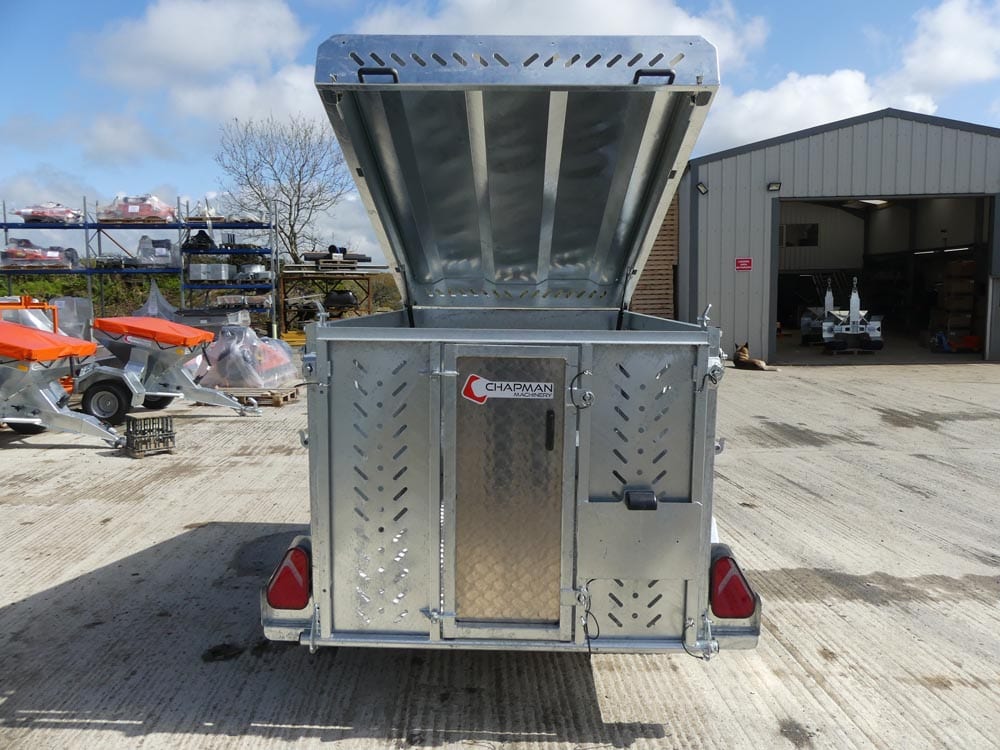 Enquire
Got questions? Email, phone or chat with us.
Enquire about this product
Hard Canopy Option
All steel canopy complete with gas struts, single rotor latches and handles, for ease of use. Sloped roof to shed water with ventilation panels front and back, ideal for when livestock are being moved.
Build & Order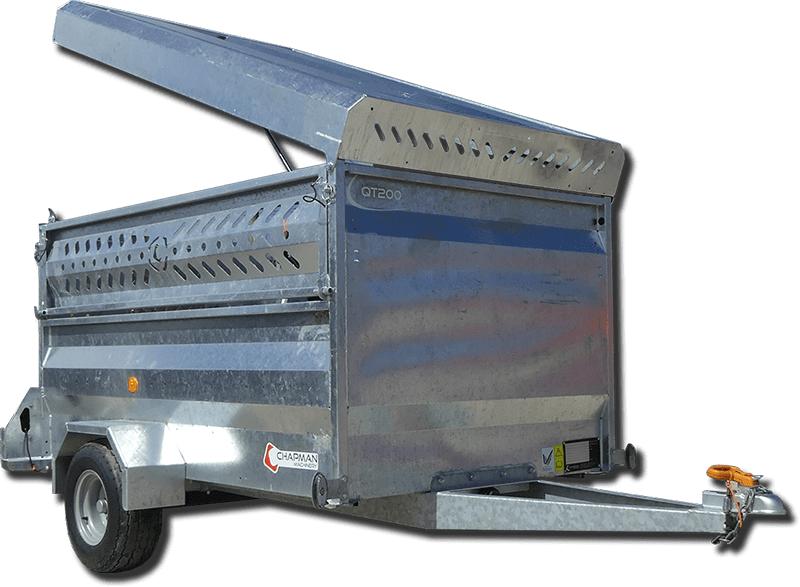 | | |
| --- | --- |
| Weight | 300kg |
| Tyre Size | 20.5x8x10" |
| Floor Material | Aluminium chequer plate |
| Max Load | 750kg |
| Lighting | Full LED |
| Coupling | 50mm Ball (unbraked) | Find a Dealer
One of our dealerships can easily be found with our interactive map.
Enquire
Got questions? Email, phone or chat with us.
Enquire about this product